FIFA Mobile: evento World Cup disponibile ora
Assieme a FIFA 23 e l'arrivo dei World Cup Marvel Heroes e dei Path to Glory, la modalità World Cup arriva finalmente anche in FIFA Mobile, la versione per smartphone e tablet del videogioco calcistico targato EA Sports.
FIFA Mobile: arriva la modalità Mondiali Qatar 2022
A seguire possiamo vedere alcuni dei giocatori speciali ottenibili attraverso le varie modalità di gioco in FIFA Mobile dedicate al FIFA World Cup 2022 in Qatar: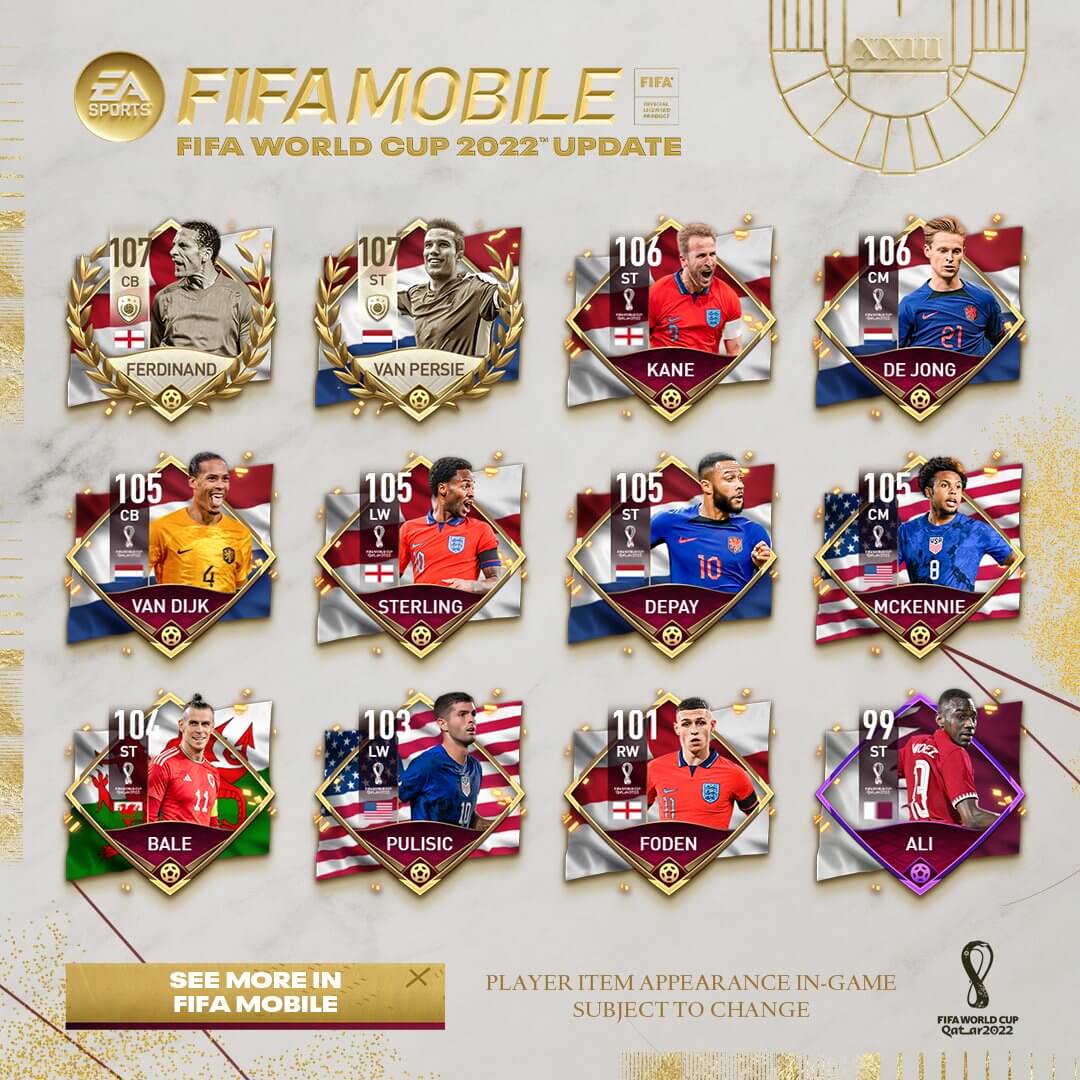 A seguire è possibile leggere tutti i dettagli del nuovo aggiornamento per giocare i Mondiali su FIFA Mobile.
Hello FIFA Mobile fans!
Welcome to the FIFA World Cup 2022™ Event!
Step onto world football's greatest stage with the FIFA World Cup 2022™ Live Event! Play matches and skill games to earn special rewards, including FIFA World Cup™ Players. Enjoy weekly updates with new Chapters, Quests, Exchanges, Players, and more!
Event Duration: Nov 17th – Jan 12th (8 weeks/56 days)
Reward paths for every 2 Groups will be unlocked weekly during the first 4 weeks.
New reward paths containing Program Players from all groups are added weekly during week 5 to 8.
Basic Event Flow:
Select between the Easy or Hard Path and play Skill Games and Matches to earn Reward Points, Program Tokens and Gems.
Use your Reward Points in the Rewards Chapter to earn rewards, including Program Players!
Use your Program Tokens in the Bonus Prizes chapter to earn rewards.
Play matches in the Weekend Ranking chapter! Choose your Division, assemble a team of Program Players, and gain Ranking by playing PvP/PvE matches to earn Stadium Tickets, Program Players and resources.
Upgrade your stadium by using your Stadium Tickets to receive rewards that can be claimed every 12 hours!
Collect Program Players to unlock unique rewards in the Player Collection chapter.
Vote for your favorite Nations and claim Victory Players!
Main
Choose daily between the Easy and the Hard paths to earn Reward Points and Program Tokens.
Easy
| | | | |
| --- | --- | --- | --- |
| Type | Reward 1 | Reward 2 | Reward 3 |
| Skill Game 1 | 300 Reward Points | 50 Program Tokens | |
| Skill Game 2 | 300 Reward Points | 50 Program Tokens | |
| Reward | 75 Gems | 50 Program Tokens | |
| Skill Game 3 | 400 Reward Points | 75 Program Tokens | |
| Easy Match | 75 Gems | 150 Program Tokens | 750 Reward Points |
| Challenge Match | 1500 Reward Points | 75 Program Tokens | |
| Challenge Match | 3000 Reward Points | 75 Program Tokens | |
Hard
| | | | |
| --- | --- | --- | --- |
| Type | Reward 1 | Reward 2 | Reward 3 |
| Hard Match | 150 Gems | 375 Program Tokens | 1750 Reward Points |
| Challenge Match | 1500 Reward Points | 75 Program Tokens | |
| Challenge Match | 3000 Reward Points | 75 Program Tokens | |
* Both paths give the same amount of rewards.
Milestones
There are various Milestones to be completed by playing the Easy and Hard matches, including goals scored, matches won, and points earned. Win 100 Skill Games and Matches to claim a 101 OVR Enhanced Base ICON Vidić.
Ticket Booth
Here you'll also find the Ticket Booth. Increase your level in the Ticket Booth by completing Daily Quests. The higher your level is, the better the value is for converting your FIFA Points into Gems. Once you have claimed your Gems, your level will reset.
Rewards
The Reward Points that you obtained from the Main chapter can be used to claim Program Players and resources in the Rewards section.
New reward paths are unlocked weekly. During the first 4 weeks, a reward path with players from two Groups will be unlocked.
Week 1 – Groups A/B
Week 2 – Groups C/D
Week 3 – Groups E/F
Week 4 – Groups G/H
In weeks 5 to 8 new reward paths will be unlocked containing players from Group A to Group H.
Milestones
Gain progression in the Milestones by using your Reward Points in the Chapters. Once you have used enough Reward Points you can claim Program Players and a 109 OVR Prime ICON!
Team Vote
It's time to cast your vote on your favorite Nations! Your vote matters as one Victory Player from the top voted Nations will receive a boost in OVR after the event has ended. Keep in mind that only the OVR will be increased for these players, stats will remain unchanged.
99 OVR Victory Players can be earned from winning the FIFA World Cup™ Tournament Mode.
By casting your vote, you will claim a random 80 OVR to 106 OVR Program Player. You can cast five votes in total, one for each region. The Team Vote chapter will disappear once you have cast all your votes.
Bonus Prizes
Use 100 Program Tokens to claim rewards from the Prize Pool. The Prize Pool shows what rewards are available and how many times they can be claimed.
You can reset the pool once you have obtained the top 3 (gold section) rewards and the rewards reset once the timer has expired.
Some of the possible Program Players are displayed in the section right next to it, including a 109 OVR Prime ICON.
Milestones
Complete the milestone by spending Program Tokens to claim a guaranteed 109 OVR Prime Icon.
Player Collection
Collect all required Program Players from the FIFA World Cup™ Event to earn unique Players that unlock on January 5th.
Keep in mind that you can't claim the players from the Market or from the Exchanges, they have to be claimed from the Event itself or from the Store.
Weekend Ranking
Play PvE or PvP Matches every week from Friday to Monday at reset time (19:00 UTC) to increase your Ranking and to earn Stadium Tickets and other rewards. You can choose which tier you are going to play in: High Tier, Mid Tier, or Low Tier.
After the Weekend Ranking has ended for the week, you will earn rewards based on your Tier and Ranking. The higher the Tier and Ranking, the better the rewards are. Earn bonus Stadium Tickets by fulfilling the lineup requirements.
Weekly rewards per Division and Ranking from High to Low (Left to Right)
Stadium
Welcome to the Stadium! In this Chapter you can upgrade different areas with Stadium Tickets to increase their level with a maximum of 10 levels.
The higher your level is for an area, the higher the rewards will be. Rewards from the areas can be claimed every 12 hours, so be sure to check back regularly!
| | | |
| --- | --- | --- |
| Area | Reward | Level 10 Rewards (every 12 hours) |
| Guest Service | Gems | 1000 Gems |
| Shops | Coins | 200 000 Coins |
| Snacks | Reward Points | 600 Reward Points |
| Field | Skill Boosts | 200 Skill Boosts |
| Seating | Program Players | 90+ OVR Program Player |
Milestones
Increase all areas to Level 5 to complete the Milestone and to claim the World Cup™ Stadium Lusail!
Program Players
In the Program Players Chapter you can purchase Offers using Gems or FIFA Points. With every purchase you receive a random 80+ OVR Program Player and Guaranteed Points.
You will find the highest OVR Program Players on the right hand side. Purchasing the Offer has the possibility to give you one of these highest OVR Players. If you don't, then you can use your Guaranteed Points to claim the guaranteed player.
*New Program Players will be added weekly and are available until the end of the event. Different Guaranteed Points are used for different Groups.
Passes
Star Pass
There will be 2 Star Passes throughout the event, each containing 75 levels and being available for 4 weeks each. Tthis is not the only change to the Star Pass, the earlier levels require less Star Pass Credits to gain levels and the requirements are progressively increased in the later levels.
This means that it's easy to progress through the start of the Star Pass but it will be harder as you go deeper on the Star Pass.
Star Pass 1: November 17th – December 15th
Star Pass 2: December 15th – January 12th
Event Passes
There are additional Passes available in the FIFA World Cup™ Live Event:
Attacker Pass (Starting November 17th)
Midfielder Pass (Starting November 24th)
Defender Pass (Starting December 1st)
These Passes contain rewards based on position. For example, in the Attacker Pass you have the opportunity to claim Skill Boosts for Attackers, Rankup Elite ATK items, and players playing in an Attacking position.
There is no relation between the Event Passes and positional Event Currencies.
Gain levels by completing Quests and earning Credits. The same Credits are used for all Passes.
Exchanges
During the FIFA World Cup™ Live Event we will have different Exchanges available to claim Program Players. Including: Reward Points, Program Tokens, and Program Players.
Schedule
| | |
| --- | --- |
| Date | Reward |
| November 17th | 100 OVR to 105 OVR Group A & B Player |
| November 24th | 100 OVR to 105 OVR Group C & D Player |
| December 1st | 100 OVR to 105 OVR Group E & F Player |
| December 8th | 100 OVR to 105 OVR Group G & H Player |
| December 15th | 100 OVR to 105 OVR Group A to H Player |
Currencies
Reward Points
Earn Reward Points in the Main and Stadium Chapters
Spend them in the Reward Path Chapter
Program Tokens
Earn Program Tokens in the Main, Reward Path, and Weekend Ranking Chapters
Spend them in the Bonus Prize Chapter
Stadium Tickets
Earn Stadium Tickets in the Weekend Ranking Chapter
Spend them in the Stadium Chapter
Guaranteed Points
Earn Guaranteed Points every time you purchase an offer in the Program Players Chapter
Spend them to get guaranteed Program Players in the Program Players Chapter
That wraps up the FIFA World Cup™ Live Event guide! To stay updated on everything FIFA Mobile, follow us on Twitter @EAFIFAMOBILE