FIFA 22: sfide creazione rosa Showdown
Sono tornate le SCR Showdown in FIFA 22 Ultimate Team. Il match selezionato vedrà contrapporsi due differenti giocatori disponibili attraverso un'apposita sfida creazione rosa. In caso di pareggio o vittoria di una delle due squadre, il calciatore riceverà un upgrade!
Le abbiamo apprezzate per la prima volta in FUT durante il Summer Heat in FIFA 20, e sono tornate nel periodo invernale durante il Team of the Group Stage in FIFA 21.
FIFA 22: SBC Showdown
Come funziona lo Showdown in FUT 22?
Il meccanismo è abbastanza semplice, sarà selezionata una partita di campionato e due giocatori provenienti dalle due squadre. Essi saranno resi disponibili per un breve periodo in FUT attraverso una sfida creazione rosa.
La carta del giocatore la cui squadra vincerà quella partita vedrà le statistiche aumentare, con un +2 sull'overall (non +3 come accadeva nell'anno precedente in FIFA 20). In caso di pareggio entrambe le card riceveranno un +1. Dopo l'upgrade verrà anche modificato il design della card, che dalla versione Showdown passerà a quella Showdown Plus.
Saremo noi dunque a decidere il giocatore su cui puntare in base al possibile risultato del match.
FIFA 22 Showdown: SCR Alvarez Vs Perisic
Requisiti SCR Julian Alvarez Showdown
Emulazione tattica (val. 86 + TOTW o TOTS)
Premier League (val. 87)
Condizione migliore (val. 88 + TOTW o TOTS)
Rosa con valutazione 89
Rosa con valutazione 90
Requisiti SCR Ivan Perisic Showdown
Condizione migliore (val. 87 + TOTW o TOTS)
Premier League (val. 88)
FIFA 22 Showdown: SCR Kounde Vs Telles
Requisiti SCR Koundé Showdown
Emulazione tattica (val. 84)
Francia (val. 86)
LaLiga (val. 87)
Requisiti SCR Telles Showdown
Brasile (val. 86)
LaLiga (val. 87)
FIFA 22 Showdown: SCR Pogba Vs Wijnaldum
Requisiti SCR Paul Pogba Showdown
Piemonte Calcio (val. 86)
Francia (val. 87)
Serie A Tim (val. 88)
Condizione migliore (val. 90 + TOTW o TOTS)
Requisiti SCR Wijnaldum Showdown
Olanda (val. 86)
Serie A Tim (val. 87)
Rosa con valutazione 88
FIFA 22 Showdown: SCR Darwin Nunez Vs Eriksen
Requisiti SCR Darwin Nunez Showdown
Liverpool (val. 87)
Premier League (val. 88)
Requisiti SCR Christian Eriksen Showdown
Manchester United (val. 86 + TOTW o TOTS)
Condizione migliore (val. 88 + TOTW o TOTS)
Premier League (val. 89)
FIFA 22 Showdown: SCR Romero Vs Emerson
Requisiti SCR Romero Showdown
Argentina (val. 84)
Premier League (val. 86 + TOTW o TOTS)
Requisiti SCR Emerson Palmieri Showdown
Italia (val. 83 + TOTW o TOTS)
Ligue 1 (val. 86 + TOTW o TOTS)
FIFA 22 Showdown: SCR Rodrygo Vs Fabinho
Requisiti SCR Rodrygo Showdown
Real Madrid (val. 85 + TOTW o TOTS)
Condizione migliore (val. 87 + TOTW o TOTS)
LaLiga (val. 88)
Requisiti SCR Fabinho Showdown
Liverpool (val. 85 + TOTW o TOTS)
Brasile (val. 86 + TOTW o TOTS)
Premier League (val. 87 + TOTW o TOTS)
Condizione migliore (val. 88 + TOTW o TOTS)
FIFA 22 Showdown: SCR Senesi Vs Karsdorp
Requisiti SCR Senesi Showdown
Eredivisie (val. 82 + TOTW o TOTS)
Argentina (val. 83 + TOTW o TOTS)
Requisiti SCR Karsdorp Showdown
Dovere nazionale (val. 82 + TOTW o TOTS)
Serie A Tim (val. 84)
FIFA 22 Showdown: SCR Goldson Vs Da Costa
Requisiti SCR Goldson Showdown
Inghilterra (val. 83)
Rosa con valutazione 84
Requisiti SCR Da Costa Showdown
Germania (val. 82 + TOTW)
Bundesliga (val. 85)
FIFA 22 Showdown: SCR Zinchenko Vs Nacho Fernandez
Requisiti SCR Zinchenko Showdown
Condizione migliore (val. 82 + TOTW)
Emulazione tattica (val. 83)
Premier League (val. 84 + TOTW)
Requisiti SCR Nacho Fernandez Showdown
Spagna (val. 82 + TOTW)
Real Madrid (val. 83)
LaLiga (val. 84 + TOTW)
FIFA 22 Showdown: SCR Canales Vs Paulista
Requisiti SCR Sergio Canales Showdown
Almeno 1 giocatore da: Spagna
Almeno 1 giocatore da: TOTW
Valutazione min. di squadra: 86
Intesa min. di squadra: 65
Requisiti SCR Gabriel Paulista Showdown
Almeno 1 giocatore da: Spagna
Almeno 1 giocatore da: TOTW
Valutazione min. di squadra: 86
Intesa min. di squadra: 65
FIFA 22 Showdown: SCR Laporte Vs Jones
Requisiti SCR Laporte Showdown
Emulazione tattica (val. 83 + TOTW)
Spagna (val. 87)
Requisiti SCR Curtis Jones Showdown
Almeno 1 giocatore da: Liverpool
Almeno 1 giocatore da: TOTW
Intesa min. di squadra: 55
Valutazione min. di squadra: 87
FIFA 22 Showdown: SCR Serdar Vs Haraguchi
Requisiti SCR Serdar Showdown
Germania (val. 82)
Premier League (va. 84)
Rosa con valutazione 85
Requisiti SCR Haraguchi Showdown
Bundesliga (val. 82)
Rosa con valutazione 84
Rosa con valutazione 85
FIFA 22 Showdown: SCR Barnes Vs Gotze
Requisiti SCR Barnes Showdown
Inghilterra (val. 82)
Premier League (va. 84 + TOTW)
Requisiti SCR Gotze Showdown
Almeno 1 giocatore da: Germania
Almeno 1 giocatore da: PSV
Almeno 1 giocatore da: TOTW
Intesa min. di squadra: 60
Valutazione min. di squadra: 84
FIFA 22 Showdown: SCR Kent Vs Medeiros
Requisiti SCR Kent Showdown
Inghilterra (val. 84)
Condizione migliore (va. 85 + TOTW)
Requisiti SCR Medeiros Showdown
Portogallo (val. 83)
Condizione migliore (val.84 + TOTW)
FIFA 22 Showdown: SCR Pavard Vs Aurier
Requisiti SCR Pavard Showdown
Emulazione tattica (val. 82 + TOTW)
Bundesliga (val. 85)
Requisiti SCR Aurier Showdown
Emulazione tattica (val. 82 + TOTW)
LaLiga (val. 85)
FIFA 22 Showdown: SCR Tavernier Vs Fabio Carvalho
Requisiti SCR Tavernier Showdown
Inghilterra (val. 81)
Rosa con valutazione 83
Requisiti SCR Fabio Carvalho Showdown
Portogallo (val. 81)
Rosa con valutazione 83
FIFA 22 Showdown: SCR Richarlison Vs Weghorst
Requisiti SCR Richarlison Showdown
Brasile (val. 85 + TOTW)
Premier League (val. 87)
Requisiti SCR Weghorst Showdown
Dovere nazionale (val. 85 + TOTW)
Premier League (val. 87)
FIFA 22 Showdown: SCR Braithwaite Vs Suso
Requisiti SCR Braithwaite Showdown
Emulazione tattica (val. 85)
LaLiga (val. 86 + TOTW)
Requisiti SCR Suso Showdown
Spagna (val. 83 + TOTW)
Condizione migliore (val. 84 + TOTW)
LaLiga (val. 85)
FIFA 22 Showdown: SCR Yarmolenko Vs Thiago Mendes – Player objective
Disponibile via obiettivi per un periodo limitato a partire dal 1 aprile 2022, le due carte Showdown che seguono:
FIFA 22 Showdown: SCR McKennie Vs Brozovic
Requisiti SCR Weston McKennie Showdown
Emulazione tattica (val.83 + TOTW)
Serie A Tim (val. 86)
Requisiti SCR Marcelo Brozovic Showdown
Emulazione tattica (val.83 + TOTW)
Serie A Tim (val. 86)
FIFA 22 Showdown: SCR Mount Vs Origi
Requisiti SCR Mason Mount Showdown
Argentina (val. 83 + TOTW)
Inghilterra (val. 85)
Requisiti SCR Divock Origi Showdown
Emulazione tattica (val. 83 + TOTW)
Premier League (val. 85)
FIFA 22 Showdown: SCR De Paul Vs Bailly
Requisiti SCR Rodrigo De Paul Showdown
Argentina (val. 83 + TOTW)
LaLiga (val. 86 + TOTW)
Requisiti SCR Eric Bailly Showdown
Emulazione tattica (val. 83 + TOTW)
Premier League (val. 86 + TOTW)
FIFA 22 Showdown: SCR Muriel Vs Darmian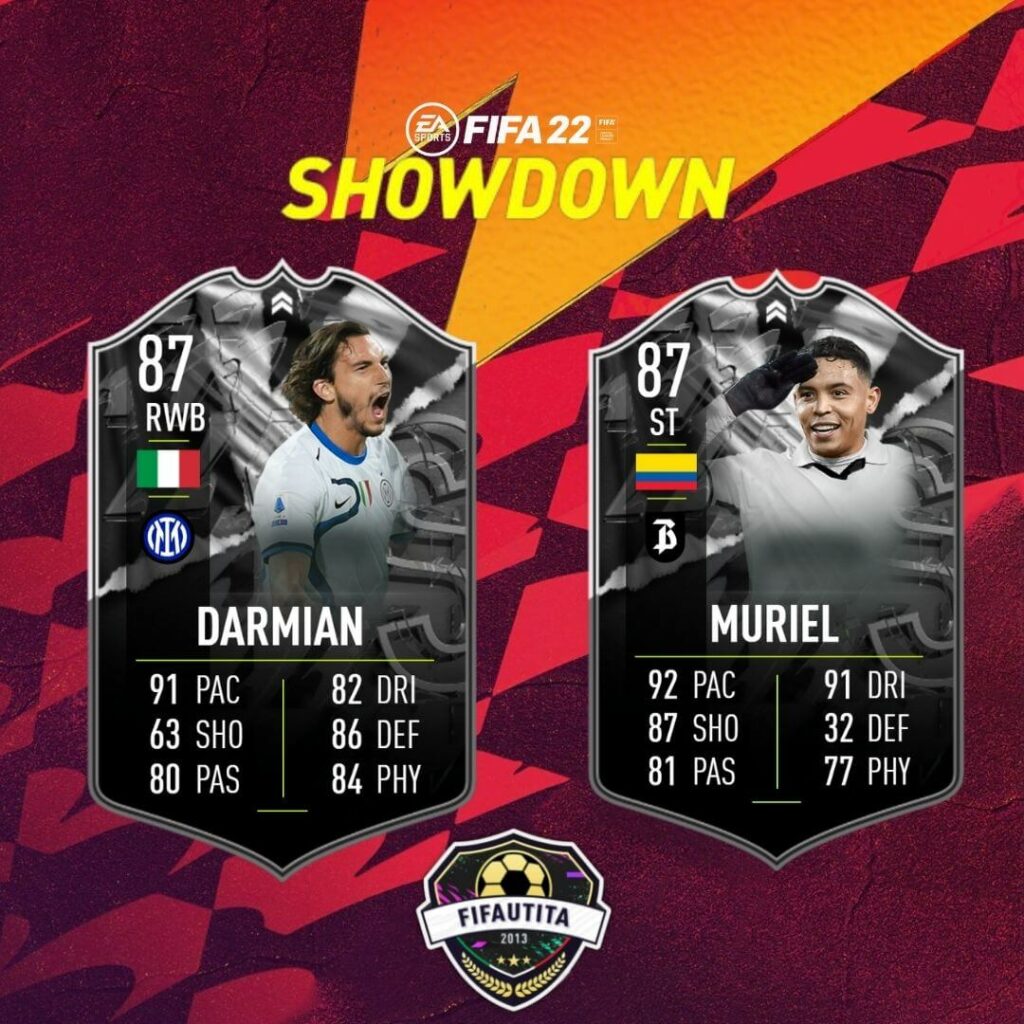 Requisiti SCR Luis Muriel Showdown
Emulazione tattica (val. 82 + TOTW)
Serie A Tim (val. 86 + TOTW)
Requisiti SCR Matteo Darmian Showdown
Emulazione tattica (val. 82 + TOTW)
Serie A Tim (val. 86 + TOTW)
FIFA 22 Showdown: SCR Kovacic Vs Keita
Requisiti SCR Kovacic Showdown
Emulazione tattica (val. 83 + TOTW)
Premier League (val. 86 + TOTW)
Requisiti SCR Nabi Keita Showdown
Emulazione tattica (val. 83 + TOTW)
Premier League (val. 86 + TOTW)
FIFA 22 Showdown: SCR Kondogbia Vs Lucas Vazquez
Requisiti SCR Kondogbia Showdown
Emulazione tattica (val. 84 + TOTW)
LaLiga (val. 85)
Requisiti SCR Lucas Vazquez Showdown
Emulazione tattica (val. 84 + TOTW)
LaLiga (val. 85)
FIFA 22 Showdown: SCR Pique Vs Sule
Requisiti SCR Pique Showdown
Emulazione tattica (val. 84 + TOTW)
Bundesliga (val 86)
Requisiti SCR Sule Showdown
Emulazione tattica (val. 84 + TOTW)
Bundesliga (val 86)